A delicious hearty meal to satisfy your chilly evenings in. Think Chicken noodle soup but way less broth and a lot more gnarly.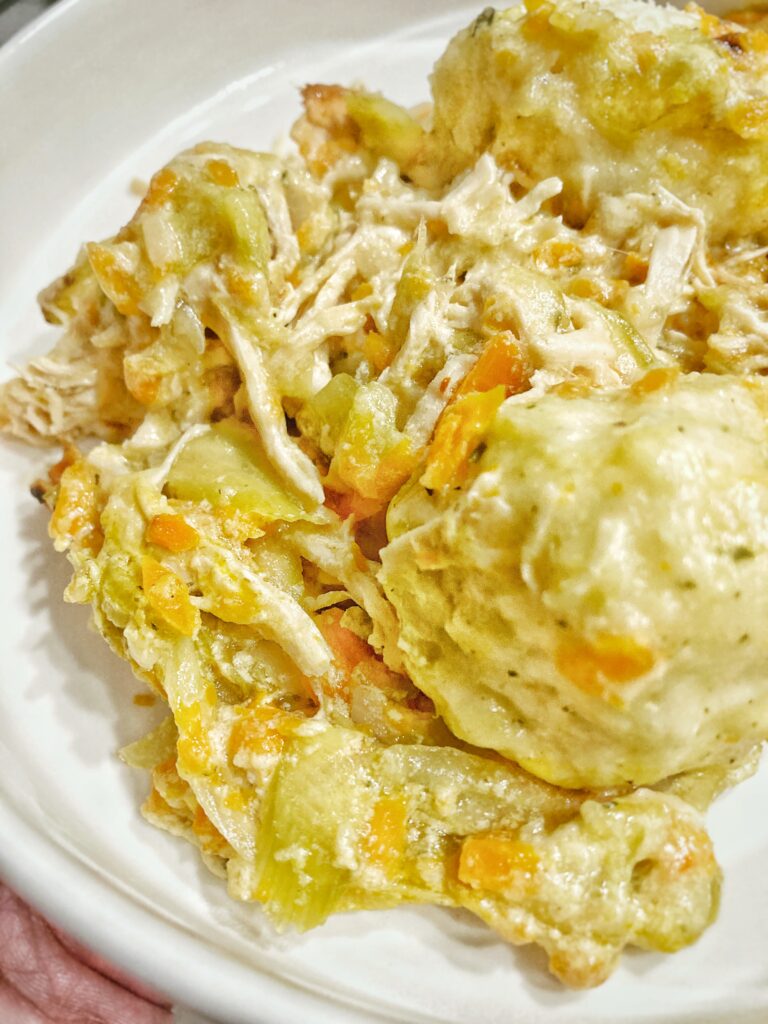 PREP TIME: 15 minutes | COOK TIME: 35 minutes | TOTAL TIME: 50 minutes
INGREDIENTS
6 tablespoons butter
1 cup chopped yellow onion
1 cup matchstick carrots
1 cup diced celery
(NOTE: for the veggies listed above, I used a food processor and shredded..)
4 cloves garlic, minced
3 tablespoons all purpose flour
12 oz (1 can) evaporated milk
32 oz (1 quart) chicken stock — (I buy the 42oz to splash in the leftovers)
4 cups shredded Chicken (about 3-4 breasts in the instapot for 20mins, 1 cup water, dash of oil and seasonings on high pressure)
1 Gnarly Pepper Veggie Dip Tear Packet
2 teaspoons freshly cracked black pepper (or to taste)
salt, to taste
HOMEMADE DUMPLINGS:
2 cups all purpose flour
1 Gnarly Pepper Veggie Dip Tear Packet
1 tablespoon plus 1 teaspoon, baking powder
1 teaspoon freshly cracked black pepper
1/2 teaspoon salt
1 tablespoon fresh thyme (or 1 teaspoon dried thyme)
3/4 cup (6 oz) whole milk
4 tablespoons butter, melted
INSTRUCTIONS
In a large heavy bottomed skillet or dutch oven, melt butter over medium-high heat. 
Add onion, carrots and celery. Cook for 5 minutes, until vegetables being to wilt. Add garlic and cook for 1 minute more.
Add flour and stir to combine. Cook for 1 minute.
Add evaporated milk and chicken stock and quickly stir to combine. 
Bring to a boil and add chicken, Gnarly Pepper Veggie Dip Tear Packet, black pepper and salt. Let soup simmer, uncovered, while you make dumplings. 
In a large bowl, whisk together flour, baking powder, pepper, salt and Gnarly Pepper Veggie Dip Tear Packet. Make a well in the center of the flour mixture and pour the milk and butter into the center of it. 
Using a wooden spoon (or rubber spatula), stir together until dough ball forms. If your dough seems too dry, you can add an extra tablespoon of milk. 
Using your hands, form smaller sized dumpling balls. Feel free to use a cookie scoop, scoop dough and drop directly into the simmering soup. Place them around the pot, not all in the same place. 
Once all dumplings have been added, gently press them down so the soup runs over just the tops of them. 
Place the lid on your pot and lower the heat a little to a low simmer (you don't want the bottom of the soup to burn but also want the soup to still be simmering to cook the dumplings). 
Cook for 15 minutes, gently stir the soup/dumplings and then cut one dumpling in half to make sure they are cooked through.
If the dumplings are cooked through, serve hot! If not, cook an additional 2-3 minutes and check again.