When Zach and I arrived in Wauwatosa, WI we noticed that the Fair Grounds were practically in our back yard. Growing up I had gone to some county fairs, ONE State Fair (Nebraska's) and that's about it. With us being so close to this fair I had to look into the possibilities of Gnarly Pepper being a vendor!
The vendor set up was a little grueling for a solo-preneur. You have to man your booth from 8am- 11pm • 2 weeks straight! Considering get poteiental sales and mostly the exposure, I knew it would be stellar to be a part, but I couldn't find someone to help that quickly. Saddened by this discovery, I set it aside and thought Zach and I would just attend and have a fun time. Until….
…the FAB Wisconsin event, the power of  'word of mouth', came through heavily when visiting with another food business owner about the free exposure, how to get your name out there etc. The owner of Honestly Cranberry suggested that I apply for the Grand Champion Event at the State Fair. WHAaaaaaaatttt? To my surprise and luck, the deadline for submissions were 2 weeks away and I had plenty of time to submit!
Best part of submitting?? If you get chosen, you get to hand out free samples ALL DAY for ONE DAY = totally doable! Though we were unable to sell product, the exposure was fabulous! I had handed out business cards with a free shipping promo code which is practically same-same!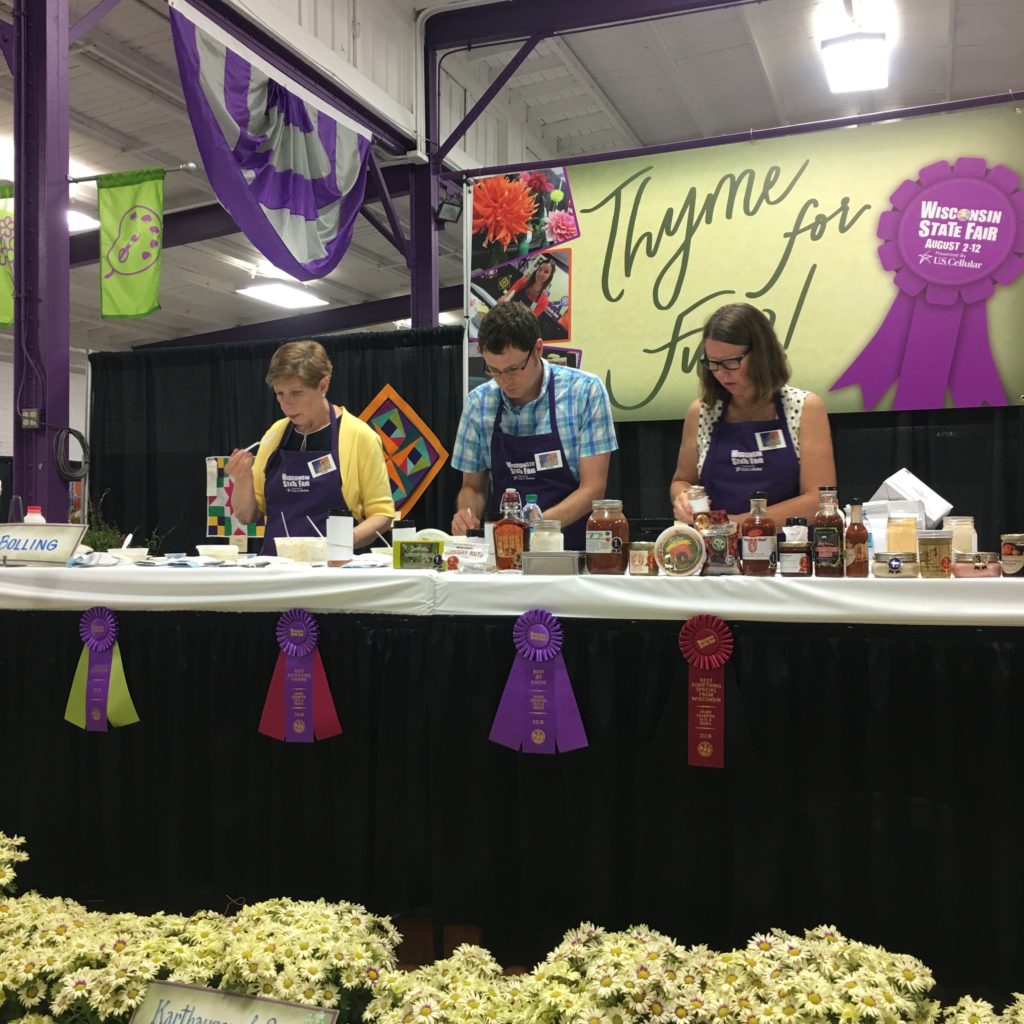 The day of the competition/sampling was half price at the door day! It was fairly (pun intended) busy and a small rain storm came through filling up our building even more with hungry dabblers. When Gnarly Peppers category approached, I prepped my samples for the blind testing. It was fun to see the judges up there sampling and marking down their favorites, pros and cons. THEN, the time came, the truth of Gnarly Pepper in all its tastiness. 3rd PLACE!!!! At first I was happy, then thought bugger, 3rd? then I remembered holy crap — this is the STATE FAIR! This isn't no county fair. This is big time – haha. It was so much fun and I met some really amazing people.
I hope I'm able to come back next year! Cheers to all the sampled, took cards and have ordered!